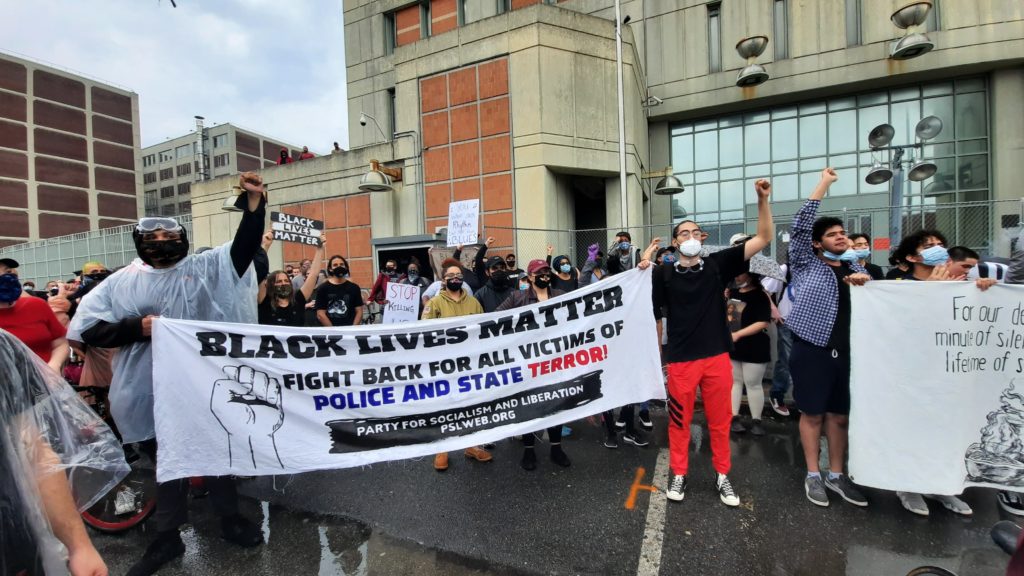 Every day thousands of protesters have taken to the streets in New York City to demand justice for George Floyd. Some of the very largest have been in Brooklyn. This week many turned their attention to two other racist outrages: The macing to death of a Black man in a Brooklyn jail, and a store employee in that borough attacking a shopper and holding him on the ground in a chokehold.
On June 5, 500 people began a march to the Metropolitan Detention Center in the Sunset Park neighborhood of Brooklyn demanding justice for Jamel Floyd (no relation to George Floyd).  Floyd a known asthmatic, was pepper sprayed by prison officials in a Brooklyn jail until he died of a heart attack.
By the time the march reached the MDC facility, the multinational and intergenerational crowd grew to almost 1,000, all furious at yet another wrongful death of a Black person at the hands of the U.S. police state.
Floyd had been incarcerated at MDC since October 2019, and was due to be released in 120 days.
As the march proceeded through the neighborhood, people stepped outside of their homes to cheer on the march, some holding signs that read "Black Lives Matter:" car horns honked in support, and entire families joined the march in solidarity. People stood in the rain and chanted "Free Them All" and "You Are Not Alone." At the jail, prisoners banged on their windows to show they were listening.
Jamel Floyd's parents spoke at the rally outside of MDC. Heartbroken, they shared their disappointment and anger at the prison system that killed their son. Floyd's mother, Donna Mays, contrasted her fury against the prison system with the hope she had from the 1,000 people who joined her to fight for justice for her son. Floyd's father thanked everyone and urged them to continue the fight to shut down MDC and end violence against incarcerated people.
A person formerly incarcerated at MDC attested to the poor conditions and inhumane treatment that the people inside MDC have to deal with on a daily basis. They urged those on the outside to stay connected with people on the inside as an important form of solidarity for the struggle against mass incarceration.
An immigrant activist urged solidarity between Latin American immigrant and Black communities. From violence against Black people to ICE raids in immigrant communities, the struggle against police violence and mass incarceration permeates throughout communities across the country, they said. The group chanted "Las vidas negras importan" ("Black lives matter" in Spanish).
Whitney Hu, the activist from Sunset Park who blew the whistle on Floyd's death, revealed that Floyd's family was not notified of his death by the prison, and instead had to find out about the killing of their own son through social media. Hu also revealed that at the time of his death, Floyd had 120 days left to his sentence and was known to be asthmatic; to this, the crowd chanted "Murderers!" Hu explained that the over-policing of Black communities, police murder of Black people, and human rights abuses against incarcerated people are interconnected issues of race and class, and urged people to choose the correct side of this struggle.
The action was called for by organizers in the Sunset Park neighborhood where the jail is located. The Party for Socialism and Liberation participated in solidarity with the community.
Hundreds hold speak out in Crown Heights
On June 8 hundreds gathered in Crown Heights to speak out against anti-Black racism in oppressed communities, and uplift community member Jason who was violently put into a chokehold by an employee at Met Foods grocery store the day before, then, without discussion, arrested by police. A video of the incident showed the employee putting his full weight on the prone Black man and insulting shoppers who expressed concern. Activists mobilized to the 77th precinct, where Jason received a desk appearance ticket, got him checked by street medics and got him home.