BREAKING NEWS: On June 10, Gov. Jay Inslee ordered a new, independent investigation into the killing of Manuel Ellis by Tacoma police. This came after new revelations  that Pierce County sheriff's deputies and a Washington State Patrol trooper were at the scene when police detained and killed Ellis. Details have not yet been specified as to who or how this will unfold so the pressure must be maintained on the governor's office until justice is served.
Are you outraged by the murder of George Floyd? Something almost exactly the same happened in Tacoma, Washington, on March 3. A movement is growing to force an immediate, independent investigation of his death and bring his killers to justice. You can help.
Manuel Ellis, 33, lost his life walking down the street. The official story as told by police has changed over three times – but here is what is known.
Manuel Ellis loved playing drums at his local church and would play up to four times a week – March 3 being one of those days. After speaking on the phone with his family and spending some time visiting with his landlady and her husband, he left to walk to the store to grab some snacks.
He never made it home.
Sometime around 11 pm at the intersection of 96thand Ainsworth, police can be heard on scanner reporting some sort of disturbance – they get out of their car and began engaging with Ellis. Their original report claimed he was "acting deliriously" and banging on the hood of the cop car unprovoked.
After engaging, a scuffle broke out with two officers pinning Ellis on the ground and two more watching/assisting. None of them were wearing body cams.
Manuel Ellis was pinned down for some time and could be heard two times over the police scanner shouting the now infamous words "I can't breathe!"
An emergency vehicle was eventually requested. Just one minute after emergency serviced arrived Manuel Ellis was dead.
Police lie, change story
In the following weeks much evidence would be withheld by the police, their story as to what went down that fatal night would change and now almost three months later the Ellis family is still left with too many unanswered questions and without justice.
Manuel's death was originally attributed to so-called "Excited Delirium," which is not accepted by the American Psychiatric Association or the World Health Organization as a distinct clinical entity. Since the term was coined in the 1980s in response to a string of mysterious deaths in police custody, it still has no accepted definition and is only described by a series of symptoms.
Another autopsy was conducted, this time by the Pierce County Medical Examiner, and his death was labeled homicide due to hypoxia, caused by police force.
The police officers involved were initially placed on administrative leave after Ellis's death but returned to the force and were back out on the beat while the case was still open, even after it had been deemed homicide by the medical examiner.
Recently two new videos have been released that contradict the police version of events, both in terms of visuals and sound. The family is fighting now to demand an immediate independent investigation from Gov. Jay Inslee, and to dismiss/recuse all parties revealed to have a vested interest in continuing to cover up the truth.
Police try to blame the victim
The Tacoma Police Union Local #6 released a statement condemning Mayor Woodard for demanding justice for Manuel and insisting that every officer is innocent.
The police have tried to point to methamphetamine in his system, as if that somehow justifies four officers punching him while he was on the ground, pinned down, struggling to breathe and begging for his life. As if being an open and struggling addict seeking help from his community,  battling mental health issues – while Black – meant he deserved to be executed.
This case has been a stunning example of the corruption that is at play when cops investigate cops. Monet Mixon, Manuel's sister, said at his vigil "If it wasn't for me and Manny's friend screaming at the top of our lungs, and George Floyd's death, this would have got brushed under the rug."
It has taken over three months for the Ellis family's story to be heard, for Manny Ellis to be given a voice. Still, the police responsible have not only not answered for their crimes, they were allowed to continue walking the streets and policing the community in which they had killed Manuel Ellis.
James Bible, the family's attorney, told the News Tribune "The harshest of realities is George Floyd is right here in Tacoma, and his name is Manny."
Manny Ellis has been taken from a family and community that loved him, including a mother, a sister, a brother, five nieces and nephews, a wife and two children.
The Ellis family has waited long enough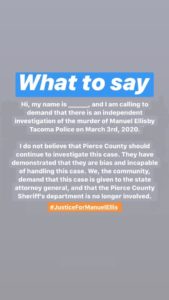 A phone campaign had been going strong to demand an independent investigation, along with the release of any information pertaining to the case or to the officers involved including the officers' own toxicology reports and any and all complaints, especially those pertaining to race.
On June 8, nine state legislators endorsed a letter demanding an independent investigation. Tacoma Mayor Victoria Woodward has called for the officers involved to be fired.
Now Manuel Ellis's family asks the public to continue calling the governor to demand justice.
Call Governor Inslee at (360) 902-4111 and demand an immediate independent investigation into the killing of Manuel Ellis.
Demand the precinct release all relevant officer information to the Ellis family.
Call on Mayor Woodard and city representatives to defund the Tacoma Police Department.
Donate to the family for legal funds, funeral costs and support.
Please like and share content from the family's Facebook page Justice For Manuel Ellis.