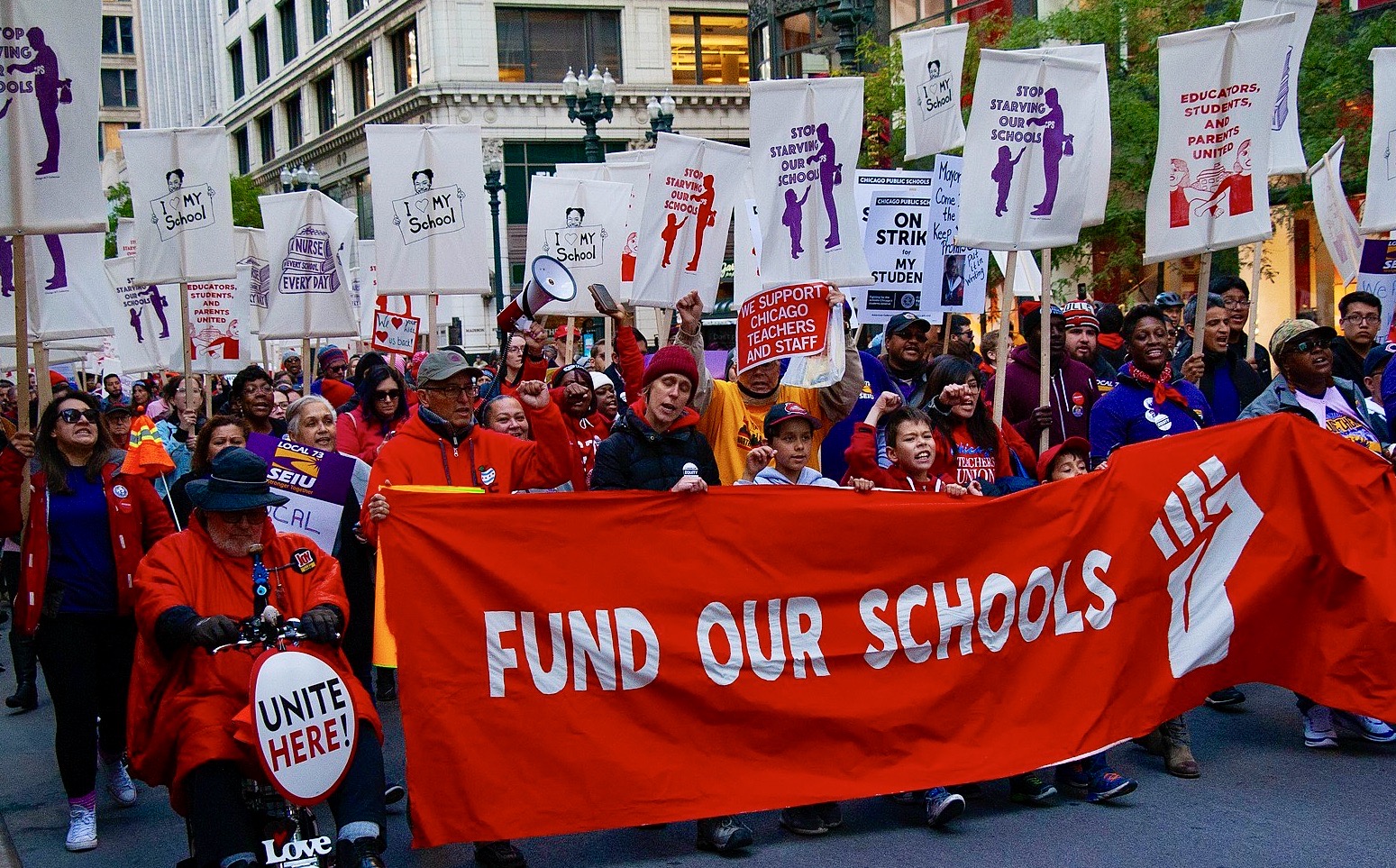 This article was originally given as a talk on the PSL's May 7th webinar entitled "The Fight for Public Education in the New Era of Class Struggle." Tune into the PSL's weekly webinars Thursdays at 7 p.m. ET on www.facebook.com/pslweb
In March, schools started to close across the country. They closed too late. Our unions and educators made the school closures happen in the first place because we understood the need to address the COVID-19 pandemic. We were worried for our students, our families, and ourselves and for the health of the public.
Education workers, from teachers to paraprofessionals to cafeteria workers, have led the way in pushing flat-footed districts overburdened by administrative costs, and already facing the consequences of a profit-driven falsely labeled "reform movement," to do what is needed for our schools and communities.
The school building has been so much more than the building itself. Within the building, students received food, education, mental health services, and access to nurses and formed a myriad of critical relationships. They also faced deep inequities, replicating the very same inequities faced everywhere by working-class people and people of color in the United States. But teachers like ourselves — socialists — fought to challenge those inequalities, too.
Now during a pandemic, we have no building. Still, we have fought to make sure food was distributed to our students and their families. We advocated for the distribution of computers, hotspots and work packets. Despite the deep inequality of the digital divide, education workers figured out how to run classes online. We have walked student after student through the minutae and challenges of online learning from home environments of all different types.
Our unions negotiated agreements in districts across the country that established reasonable distance learning expectations, grading policies, pay for substitutes and paraprofessionals, and more. Those schools that still have social workers and counselors and nurses mobilized double time to call families and support them. We started GoFundMes for our school communities.
To say the least, it has been difficult and stressful and incredibly challenging for all education workers. The crisis has shaken the foundations of our work. And now we are being told that there is no money for our schools. That our schools and our jobs are on the chopping block.
Sixty-two superintendents from large public districts like New York, Los Angeles, Chicago and Miami wrote to Congress last week: "Dark clouds are forming on the educational horizon that will spell disaster if Congress does not intervene." They predicted 20-to-25 percent cuts in overall revenues to schools and layoffs of hundreds of thousands of teachers. According to them, public schools need $200 billion.
The biggest piece of legislation passed by the government for relief during the pandemic provided $13 billion for schools while it funneled billions into the hands of large corporations and the banks. Amazon CEO Jeff Bezos was already insanely wealthy and is now $24 billion richer BECAUSE of the crisis. So far this year, Netflix founder and chief executive Reed Hastings saw his personal fortune grow from $195 million to $5.1 billion. I particularly mention him because he has been a huge proponent of the anti-union charter school privatizations, funding schools and politicians alike.
It is absolutely unconscionable that we are in a situation in which enormous sums of money were just handed over to the biggest banks and corporations with barely a blip of resistance from the most left-wing amongst the establishment. Yet day after day we see news of budget cuts, both now and in the future, to public education and the public sector. And we are just supposed to accept that as if it's a real thing that there is no money.
What a fantastic lie!
The federal government has enormous resources and the power in the midst of a pandemic to move resources to where they are needed.
The budget attacks on public education are an extension of a war that was already being waged on public education and on teachers' unions. The pandemic that initiated a crisis due to utter mismanagement by the U.S. government has transformed our reality.
There is no clear path to reopen schools, even as states move to reopen. Reopening schools safely will require increased personnel not decreased personnel. Fewer students to a classroom to maintain distancing, and possibly staggered schedules, will require additional educators. Janitorial staff to properly clean will need to be hired. Social workers, counselors and nurses will be needed to address the trauma of the last few months and maintain health practices. We need HOT water. In 13 years, I've never worked in a school with hot water.
When the needs of the crisis require increased educational funding and an expansion of social services, governments are announcing huge cuts to public education. The federal government is literally handing billions over to the richest. They continue to fund the war drive. There is a public relations campaign building to support distance learning from the most right-wing elements of the school reform movement. Corporate owners who have experimented with undermining our unions and privatizing our schools, like the Gates family, are teaming up with the politicians announcing the budget cuts.
Strike wave of 2018-19
The strike wave of 2018-19 shone a bright light onto all the attacks on public education, from extremely outdated textbooks, poorly maintained buildings and cuts to services to overworked and under-supported education workers. The strike wave that started in Chicago five years ago was re-initiated by the teachers of West Virginia and Kentucky and Oklahoma and Arizona then Oakland, Los Angeles and Chicago again.
This strike wave was the key to stopping the anti-union privatization efforts that had been building for decades. The strikes and worker actions made major gains in improved working and teaching conditions and also forced districts, counties, and even states to increase education budgets.
And within a few years, districts across the country began a process that was reversing those attacks. The labor movement was transformed. Community-teacher organization relationships were built like never before.
No choice but to struggle
At this moment, here is no choice for us in public education but to struggle. We should rightly see the budget cuts as an attack on our unions, on ourselves as workers, and on public education as a whole. It is a critical right for our class to be educated, as education is recognized as a basic human right. We cannot let stand the proclamations by politicians that there is no money or their insistence that we accept the situation. This crisis is only going to deepen, and what happens next to public education depends on our levels of organization, of mobilization, of connections to our communities and our coworkers.
The class struggle is going to intensify and to sharpen because the ruling class is taking advantage of the pandemic to intensify their war on working people.
Over the last few years, teachers have been in the lead of a resurgent labor movement. We have to gear up the fight. Unless we fight for public education and do it now, the gains of the last few years will be decimated. We are being set up to fight district-by-district, locality-by-locality where the local leaders can shrug their shoulders and say there is no money. But public education is a national issue, it is a right for all of us. We need to make that struggle a coordinated nationwide struggle and reject the setup.
Work with our unions and our community connections to build this movement because we know it has power. Think about our role, our position in society.
We have seen that power when education workers and communities stand up together, we win.