On May 30 thousands of protesters took the streets of La Mesa, California demanding justice for George Floyd and all victims of police violence. This erupted after a La Mesa police officer used excessive force to detain a Black man at Grossmont trolley station on May 29.
The action began in the streets of La Mesa, a town in East County San Diego. Protestors demonstrated outside La Mesa City Hall and took over the I-8 freeway.
Then the crowd marched to La Mesa Police Department at 2PM where protesters gathered with signs. Demonstrators chanted "Black Lives Matter" and "No Justice, No Peace" in front of officers wearing full riot gear. By 6PM,  police began spraying tear gas and firing pepper bullets into the crowd.
Many protesters donned water bottles filled with exposure solution in order to relieve others from tear gas eye burns. Around an hour later, helicopters surrounded the department building. In the name of San Diego Sheriff Dept., the helicopters broadcasted that the demonstration was an "unlawful assembly" promising that arrests would be made.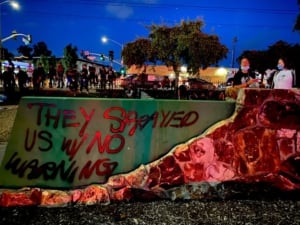 Brutality experienced by demonstrators
Liberation News interviewed a woman named Claudia. Claudia was witness to a Black woman getting shot in the head by police.

Claudia stated, "I was next to the woman. I was hit in the shoulder but it wasn't that bad and suddenly something… Came at her and hit her on the bridge of the nose, she flew back hit the floor and she's passed out and there's a pool of blood and she was out. She's an African-American woman I'd say maybe early 50s. I'll never forget that."

When asked what kind of weapon was used to injure the woman Claudia replied, "I just got a rubber bullet, I mean it hurt but she got hit with something else."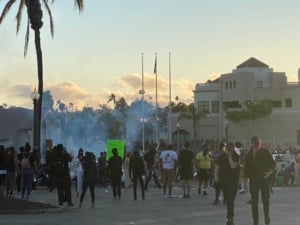 Another protester with gauze wrapped around their head to treat a wound talked about how the injury occurred: "They've been throwing teargas all day to separate the crowd, and then the crowd goes back after the teargas dissipates. In one of those situations, I was running with the crowd and I just felt like I got hit in the back of the head with a baseball bat and it was like the hardest I've ever been hit in the back of the head, like at all. I was scared for my life at that moment and then as I was running across trying not to get tear gassed. I reached out my hand and it was just full of blood. That was when everybody started helping me out." 
The demonstrator added "I'm out here for all my people and family, Brown and Black people have been murdered in this country forever and that's how this country was founded… Every one of us here matters. When we get out here together we can make some change happen." 
The struggle continues
Protestors continued to demonstrate until 2AM. A followup action is taking place in downtown San Diego on May 31. A car caravan to protest police violence organized by Black Lives Matter San Diego and March for Black Womxn San Diego is scheduled for Saturday, June 6.