In a major international development, hundreds of thousands of people in more than 60 countries have taken to the streets in a worldwide call to address racism.
The protests began in outrage over the murder of George Floyd by Minneapolis police.  Encouraged by the depth of the anti-racist uprising in the U.S., many are drawing parallels to  the racists actions of their own governments and police. Solidarity with George Floyd now links an anti-racist movement on every inhabited continent.  The mostly youthful,  multi-national actions are still multiplying.  The outrages they protest are shockingly familiar. Here is a sampling.
Oceania: Two countries
Australia. Huge protests in Sydney, Melbourne, Brisbane, Adelaide and Hobart on June 6 to show solidarity with the Black Lives Matter movement and call for an end to Aboriginal deaths in custody.
Since 1991, 432 Indigenous Australians have died in custody, yet no police officer has ever been held criminally responsible for an Aboriginal death in custody. Indigenous Australians make up 2 percent of the country's adult population but 27 percent of the prison population, making them the most incarcerated in the world by percentage of population.
Over 10,000 gathered in Brisbane in what some are calling the biggest demonstration ever there. They sat-in outside Brisbane's South Police Station chanting, "I can't breathe," and "Enough is enough." Many were wrapped in Indigenous flags.
Tens of thousands took to the streets in both Sydney and Melbourne, some carrying signs reading, "Same story, different soil." In Sydney, an attempt to outlaw the protest due to COVID-19 limits on gatherings was overturned at the last minute. Aboriginal elder Rhonda Dixon-Grosvenor explained: "We have a right to gather on our country. … We have a right to speak and a right to express ourselves as human beings."
New Zealand. Some 7-8,000 marched in Auckland, in a huge outpouring, according to Mike Treen, national director of Unite Union. Treen, whose union supplied the sound system for the event, said young Maori and Pacifica feel the same racist profiling from police in New Zealand. Maori make up 15 percent of New Zealand's population but are 50 percent of those incarcerated. Young Maori groups are fighting proposals to more routinely arm the police, who do not normally carry weapons except for Tasers.  This was a very youthful protest and local Hip Hop artists played an important role in organizing and leading it. Many young white people participated.
Europe: 32 countries
Activists have hit the streets in 22 cities in Italy and nine in Belgium. There have been many demonstrations in France. In Paris on June 2, 15,000 defied a ban on large demonstrations due to the coronavirus. The march linked incidents in France that are similar to Floyd's killing. The action was organized by Justice for Adama, founded by the family of Adama Traoré, a 24-year-old Black construction worker who died in the custody of French police in 2016 when they jumped on Traoré 's back, suffocating him. Protesters carried signs with both men's names beneath the words "I can't breathe."
Germany. Demonstrations have taken place in 17 cities. On June 6, 200,000 mostly young people gathered in over 20 cities to protest the murder of Floyd, and to target racism in Germany. In Munich, 30,000 came out, in Berlin 25,000, in Dusseldorf and Hamburg 15,000 each, in Cologne, Freiburg, and Hanover 10,000 each. The actions took place despite lockdowns.
Protesters chanting, "Nazis out!" and "Germany you are not innocent," denounced  an increase in racism and police violence in Germany. Some  banners connected the struggles in the U.S. and Germany with the slogan "Your Pain is My Pain, Your Fight Is My Fight." German soccer teams have been wearing T-shirts and arm bands reading "Black Lives Matter," and taking the knee.
Britain. Tens of thousands demonstrated in central London on June 7. Many wore masks with "racism is the virus" written on them. People chanted, "The UK is not innocent!" Their rally invoked Floyd's memory as well as the memory of people of color killed by police in Britain. That day in Bristol, protesters used ropes to pull down the bronze statue of Edward Colston, a 17th-century slave trader who transported over 80,000 men and women from Africa to the Americas. A protester placed their knee on the neck of the toppled statue, then others dragged the statue through the  streets and threw it into the harbor.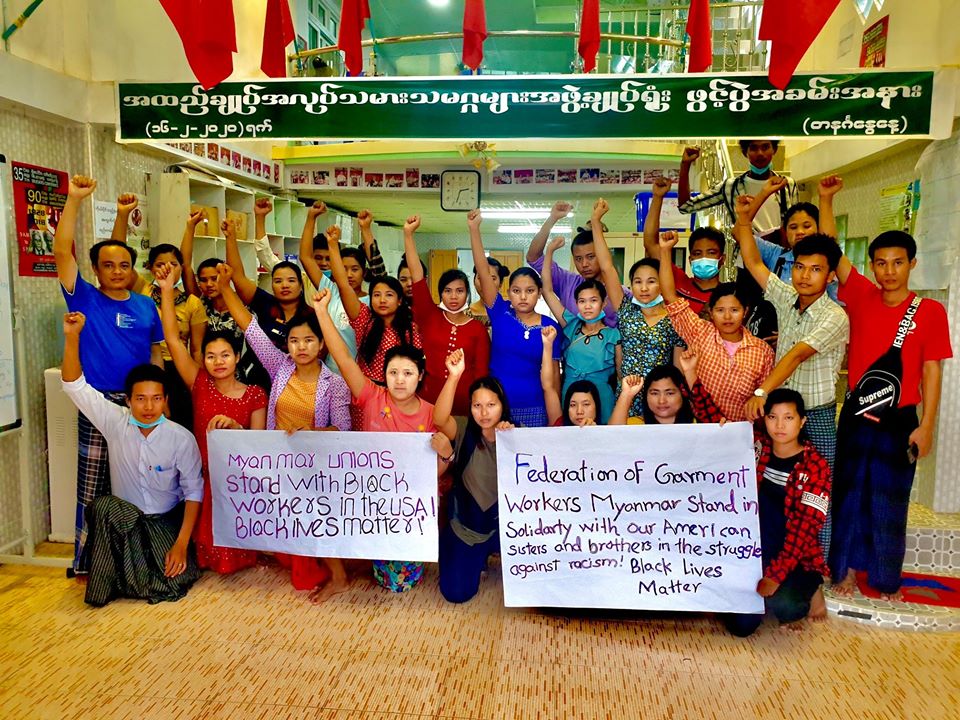 Spain: Thousands came out in Barcelona and Madrid on June 7. At the U.S embassy in Madrid, the crowd chanted, "I can't breathe" and "Racism knows no borders."  March participant Leinisa Seemdo, a 26-year-old Spanish translator from Cape Verde, said, "In all the countries where I have lived, I have experienced discrimination because of the color of my skin."
Asia: 14 countries
Lebanon. In addition to demanding justice for George Floyd, demonstrators in Beirut  protested the kafala system in Lebanon, in which migrant workers are exploited by their employers, and their passports are often confiscated.
Occupied Palestine. Both Jewish and Palestinian Israelis  chanted "Palestinian lives matter" at protests. They connected events in the U.S.  with the killing in Jerusalem last week of Iyad Hallak, an autistic Palestinian man. Israeli police justified their murder of this disabled man by claiming he was armed, but Hallak did not have a weapon. On the West Bank, activist artists created a giant memorial picture of George Floyd backed by a Palestinian flag.
Japan. Hundreds of people of many nationalities marched and rallied in Tokyo on June 6 to support Black Lives Matter and to protest the brutalizing of a Kurdish man who  was stopped while driving on May 22, dragged from his car and shoved to the ground by police. The incident was videoed and posted on Twitter.
Republic of Korea. On June 6, demonstrators in Seoul held signs in Korean and English denouncing racism in the U.S. and racism against Korea's immigrant community. "Racism happens here in Korea," said Shim Ji-hoon, protest organizer. "Whether they are from China, Black or other immigrant workers, they are mocked and looked down on." Shim says he worries that if these concerns aren't addressed soon, "what happened to George Floyd could happen here, too."
On June 3 the People's Democracy Party of South Korea held a protest in front of the U.S. embassy in Seoul and streamed it live.(see photo)
The K-pop band BTS has also donated $1 million to help BLM demonstrators and called on fans to match their contribution. The fan have since come through with another $1 million. K-pop fans worldwide have hijacked racist hashtags on Twitter by overwhelming these threads with videos of their favorite performers. Bernie Cho, a music promotion agency in Seoul said, "With a lot of Korean music artists, there's a deeper respect of the importance and impact that Black culture has had on not only their personal but professional lives."
Myanmar. Workers and union leaders from the Federation of Garment Workers Myanmar organized a photo op to show their solidarity with Black workers in the U.S. and in the struggle against racism. (see photo)
Africa: 7 countries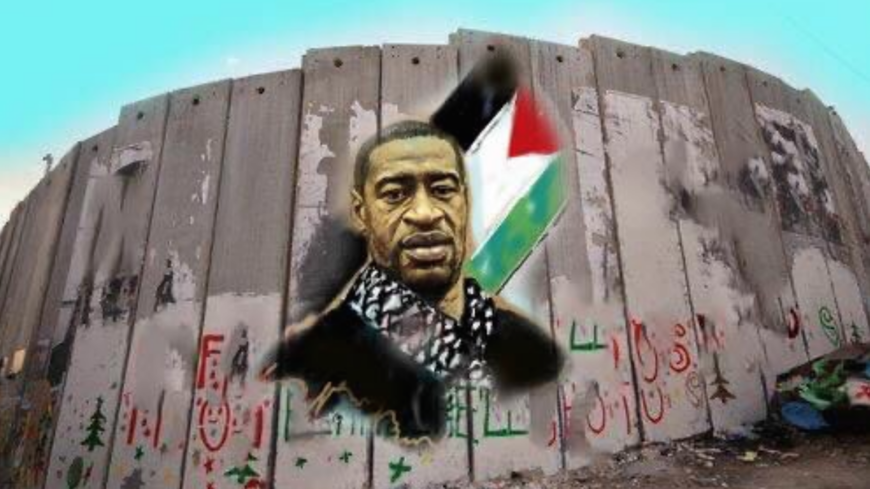 South Africa. Demonstrations have taken place in Cape Town, Pretoria and Johannesberg. Socialist Revolutionary Workers' Party in South Africa issued a solidarity statement declaring, "The cause of the mass uprising in the United States against the brutal execution of George Floyd is the cause of the international working class. " The statement pointed out that, "In South Africa, a country that depends on the labour of a majority black population, racism is still alive and well."
Tunisia. On June 6, people gathered in Tunis to denounce discrimination and systemic violence in the United States and in the world, and called for a Tunisia free from racism and human rights abuses. The crowd held banners bearing messages such as "We all bleed the same colour,"  "If you sow racism, you reap revolution," "No freedom till we're equal" and "Your fight is my fight."  The 15 percent of Tunisians who identify as black are often the victims of verbal abuse and sometimes of physical attacks.
The protest was organized by the anti-racism association  Mnemty and the Tunisian Association for the Support of Minorities. "We are here today to say 'no' to racism in U.S. and everywhere in the world," said Zied Rouin, Mnemty's project coordinator. He called on the Tunisian state to "put into place strategies and action plans aimed at fighting racial discrimination and xenophobia."
North America: 3 countries
Mexico. In Guadalajara, hundreds of protesters marched on 4 June to protest the May 5 police beating death of Giovanni López. This 30-year-old man was arrested and killed for not wearing a face mask.
South America and the Caribbean: nine countries
Brazil. Hundreds of people protested in front of the Rio de Janeiro state government palace. The action connected the fight against police murders in the U.S. with the recent  police killing of a Brazilian Black teenager, 14-year-old João Pedro Pinto, who was shot in the back by cops in São Gonçalo. Police dispersed the protesters with tear gas. In São Paulo, 3,000 people connected George Floyd with the fight against police brutality inflicted upon Black Brazilians.