On May 30, Cancel the Rents held a second nationally coordinated day of car protests to cancel rents and mortgages for tenants, homeowners and small businesses. The number of protests registered on the website exceeded 60. As states move to "re-open" from shelter in place measures, the patchwork network of moratorium evictions is quickly unraveling and as the New York Times noted, an "avalanche of evictions" is heading towards the masses of people. 
The day of protest, planned for several weeks, fell on the first Saturday after the racist police lynching of George Floyd in Minneapolis, Minnesota and the eruption of mass protests and rebellions in cities across the United States. In Minneapolis, and a few other cities, the planned car caravan was canceled or postponed and activities merged with the struggle against racist police brutality. The national day of coordinated action as a whole pivoted to include a focus on the struggle against racism and police brutality, which is inextricably linked to the struggle for housing justice and equitable COVID-19 relief. Many car protests drove to join their local Justice for George Floyd actions, or joined up later in the day. 
What follows are some highlights of the car protests in cities across the U.S. 
Washington, D.C. 
The U.S. capitol was the site of a large and spirited car protest joined by 80 cars. Demonstrators gathered at noon at the Carter Barron Ampitheatre. There was a small rally before the caravan took off.  PSL and Stop Police Terror Project Organizer Sean Blackmon spoke about the right to housing and end of racist police terror, standing in solidarity with the Minneapolis. The 80+ car caravan drove through the district, with passengers chanting "Cancel the Rents" and "Justice for George Floyd." The caravan made a stop in Columbia Heights and ended at the Metropolitan Police Department headquarters.
Ithaca, New York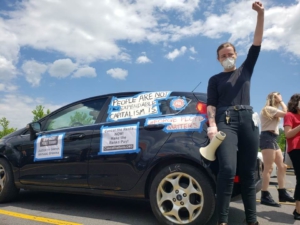 Some 115 cars and 7 cyclists drove through the hilly, narrow streets of Ithaca, New York to demand cancellation of rents and mortgages and an end to racist police violence. The route passed by buildings owned by one of the city's most racist and notorious landlords. Cars joined from throughout the Finger Lakes region. The overwhelming turnout surprised organizers and delighted city residents who greeted them from their doorsteps by banging pots and pans.
Albuquerque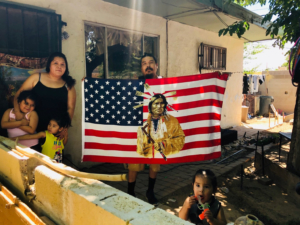 The  Albuquerque car protest was 45 cars long, more than double the number of cars from this city's first #CancelTheRents caravan at the end of March. Again, the route passed through the International District, commonly known as the War Zone, one of the poorest and most diverse parts of the city. This district is already familiar with the work of the PSL. The local File-Together Fight-Together survival program, started by the PSL, has helped nearly 200 people who live in this technological desert file electronically for unemployment benefits and for stimulus checks. A married couple we helped file for unemployment in the very first week of our program showed up today ready to protest! 
The lead car's amplified sound system, used for chanting and speeches, was fed into all the other cars through a conference call that each driver joined, playing the audio through their own car's speakers via bluetooth or aux cable. The sound drew people out of their homes where they greeted us from their porches and driveways with pumping fists and wide waves of support. It ended powerfully in a vacant lot, with cars lined up drive-in-theatre style, honking their support one militant speech after the next.
California
On May 30, seven Cancel the Rents and Mortgages car protests took place in the greater Los Angeles area. The Chinatown caravan, organized by Chinatown Community for Equitable Development, had about 50 cars.  Baldwin Park's caravan had 20. In Long Beach, some 12 cars turned out, while 10 showed in Santa Clarita, six in Inglewood, three in Riverside and 23 in Los Angeles. 
Forty cars and more than 60 people attended the caravan in San Francisco, with a strong showing from the Bay Area Poor People's Campaign, the United Educators of San Francisco and the Bay Area branch of the Party for Socialism and Liberation. People who were on the streets and looking out their windows in both the Mission and Tenderloin districts could be seen responding enthusiastically to the demands of housing the homeless, canceling rents and mortgages, justice for George Floyd and all victims of racist police terror. The caravan passed by Mayor London Breed's residence to demand that the thousands of empty hotel rooms and housing units throughout the City be used to house the homeless and others in need of dignified living conditions. Among speakers at rally before rally were Susan Solomon, president of United Educators of San Francisco, Gloria La Riva, PSL and Peace and Freedom Party presidential candidate and Nell Myhand of Bay Area Poor Peoples Campaign.
Some 100 participants in about 50 cars started at the  San Diego Justice Center  and circled around SD Police Department,  receiving a lot of community support from locals. Along with members of PSL, otther participating organizations included: Migrante San Diego, San Diego Tenants Union, Alliance of Californians for Community Empowerment, Parent Voices San Diego County, Armadillos Búsqueda y Rescate, Peace and Freedom Party SD, ANSWER SDQ.
The Fresno caravan traveled through the working class neighborhoods of South East and Tower District in Fresno. During the drive, two cops were spotted pulling over and searching the car of a group of young Black teenagers. Immediately, the caravan maneuvered and found an alleyway which led straight out to where the confrontation was. We emerged out of the alley, surprising the cops, and slowly passed as we chanted and honked to make sure our message was clear, "We, the people, are watching." The organizers were met with waves, fists, thumbs up, honks, and other signs of solidarity throughout the whole journey.
Illinois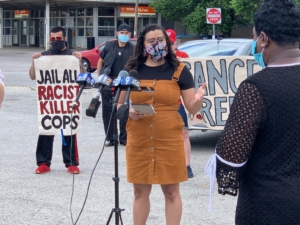 The car protest's route went through several working class and immigrant neighborhoods on Chicago's Southwest and West sides, receiving positive reactions from passers by and other vehicles. Approximately 20 cars took part. The protest started with a press conference which was covered by several local TV affiliates.
The police followed closely but there were no incidents. After the car protest participants  linked up with another protest from the jail to downtown Chicago that was organized by the Chicago Alliance Against Racism and Political Repression and other groups.
An action  in Carbondale started out with six cars and picked one up along the way.  In Quad Cities, Illinois, community members joined for a car caravan protest to the Rock Island County Courthouse, a transfer point for I.C.E. detainees. While passing The District downtown area of Rock Island, IL, the caravan was met with cheers and bystanders putting up their fists as it passed. 
Afterward, members of the car caravan joined with a protest march across the Mississippi River in Davenport, Iowa where hundreds of protesters gathered in solidarity with Minneapolis, demanding justice for George Floyd.
Texas
The Houston car protest was supposed to start at 3 pm, but so many came out that the event was pushed back by a half-hour by the time signs were placed on each car. Individuals on every street held their fists high in solidarity, with children cheering from the sidewalk as well. Some rushed out of the businesses they were patronizing. During the entire route,  other drivers honked in support, some rolling down their windows to hold fists high in solidarity. 
A 14 car caravan began in the northeast part of Dallas where many immigrants live in tightly packed apartments. The caravan toured three complexes as well as an Asian shopping center to enthusiastic support from the people living and working there. The caravan then drove into the heart of downtown and reconvened at City Hall where the second day of protesting for George Floyd and Black lives was beginning. The caravan then followed a second route with the Dallas Alliance Against Racist and Political Repression through downtown and into the West End as people began to gather and the energy began to rise. Police presence was extremely heavy, with militarized vehicles on the streets and helicopters flying overhead.
New England
Five cars joined the caravan in Rhode Island, stopping at city halls and shopping streets in Central Falls, Pawtucket, and Providence. Passing cars honked their horns in support, while people on the streets stopped to listen to speeches, a few of them filming. Later, the caravan protesters joined a gathering of some 2,000 people at the Black Lives Matter protest mobilized in response to the murder of George Floyd, one of the largest in recent Rhode Island history. The caravan joined the action after protesters had marched a short route downtown to gather on the steps of the statehouse.
A  car protest in Burlington, Vermont demanded "Cancel the Rents" and "Convict Killer Cops" and received a lot of pedestrian support. The car protest drove to the Justice for George Floyd event at Battery Park that was co-hosted by an assortment of organizations Including the Peace and Justice Center, the Vermont Workers Center, and others. 
In Manchester, NH organizers here more than tripled their turnout from last month and saw four cars join spontaneously after hearing speeches. 
Boston's Cancel The Rent rally began at the South Bay Correctional Facility, passing by to show solidarity with our incarcerated sisters violently locked up in inhumane conditions under COVID-19. The rally was composed of around 25 cars and 5 bikers, all decorated with signs and window paint demanding the cancellation of rent, end to incarceration and justice for George Floyd. The rally went through predominantly Black and Brown neighborhoods of Dorchester finally ending around Nubian Square. Despite social-distancing orders, there were many out, a majority showing solidarity and support, many raising their left fists and chanting along. An MBTA bus on route joined along with the honking, the driver's fist out the window.  
PSL Connecticut was joined by other organizations with the Cancel Rent CT coalition in organizing a caravan in New Haven, while other coalition partners organized caravans in Hartford and Danbury. In New Haven, about 30 cars joined the caravan with over 20 cars in Danbury and over 40 cars in Hartford. 
In New Haven, the caravan started at City Hall and drove past Congressional Representative Rosa DeLauro's office, the New Haven Correction Center, State Senator Gary Winfield's residence and down Dixwell Avenue in the Newhallville neighborhood – the site of a nearly deadly police shooting of two community members in April 2019 and the target of major redevelopment by wealthy institutions like Yale and real estate profiteers. The caravan was met with cheers from residents clapping, joining in with chants from their porches and windows along with other cars honking in solidarity all along the route.  A family celebrating a young woman's graduation party came out from their backyard to record the caravan and joined in chanting "Cancel The Rent" and "Justice for George Floyd".
Pacific NorthWest
Organizers in Seattle, where many workers cannot afford to own cars, tripled the size of the car caravan from last month to nine vehicles. After decorating the cars with signs and car chalk, the drivers set off and drove through the Chinatown/International District, site of a recent homeless "sweep," through the historically Black Central District, now facing severe gentrification, and the previously affordable Capitol Hill neighborhood. Honking and chanting "Cancel the Rents! Justice for George Floyd!" bystanders raised their fists in solidarity and other cars honked in support. 
After driving the route, caravanners went downtown to join the "Defiant Walk" rally and march to demand justice for George Floyd. 
In Spokane, Washington, some 10 vehicles joined together to positive response from the community. Caravans took place in Boise, Idaho and Portland, Oregon as well. 
New York City-New Jersey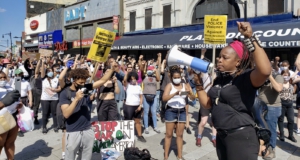 In New York City and northern New Jersey, protests were held from Newark to Queens. Actions for the #CancelTheRents campaign included car caravans, banner drops with allied organizations, and a Manhattan neighborhood protests for those sheltering in place. By the afternoon these joined mass demonstrations resisting police brutality. PSL co-sponsored actions demanding justice for George Floyd in Brooklyn, the Bronx, Manhattan and Queens, working with tenants associations, community organizations, and other socialist groups, drew thousands.  Brooklyn witnessed the largest uprising in the city, with  10,000 protesters.
Police repression was brutal and swift, with footage of a police cruiser intentionally driving into Brooklyn protesters gaining national attention. Cops in Brooklyn flew a helicopter low so low above the protest that the wind pressure knocked some off their feet.  The struggle, however, deepened as NYC bus drivers on Friday, backed by their union,  refused to transport arrested protesters, to the cheers of the crowd. PSL organizer Kerbie Joseph spoke to how these rebellions needed to be part of a sustained, revolutionary movement, leading a chant asking "Are we stopping today?" as crowds cheered "No!" Actions continued throughout the night, taking over key areas such as the Brooklyn Bridge and the Brooklyn-Queens Expressway.
The South
The Atlanta, Georgia  car caravan protest was successful with about 20 cars participating, beginning and ending at the West End Mall. The caravan protested through neighborhoods in West Atlanta and downtown and  stopped and agitated downtown outside the Atlanta City Detention Center with lot of support from cars and pedestrians.
Protesters in Asheville, North Carolina joined in with the national cancel the rents and mortgages with a caravan of around 20 cars. Some came all the way from Kentucky and Georgia to join in solidarity. Response from people in the communities were very positive, even people who said they had voted for Trump came out in solidarity.
In Birmingham, Alabama,  the moratorium on evictions ends June 1 which will leave countless working people houseless as police terror grips the country.
In East Tennessee, a modestly sized car protest drove through working class neighborhoods as well as circling heavily gentrified areas and city government buildings calling for justice and a bail out for the working class in the form of a cancellation of all rents and mortgages. They were met with enthusiastic response from the communities.
In Nashville a caravan of six cars set off on May 31. Those gathered varied in age, race, and political background.  Participants taped signs to their cars which read things like "Cancel the Rents!", "Black Lives Matter" and "Homes for All!"   People also wrote "Justice for George Floyd" and "Stop Killing Black People" on their car windows with car markers at the gathering spot prior to the caravan's commencing.  They drove from North Nashville to East Nashville to South.  The entire route took about 45 minutes, and passersby on foot and in vehicles raised their fists and honked in agreement.
On July 5, 2019, Pensacola (Florida) police shot and killed Tymar Crawford in front of his partner and children. Since then, the Pensacola community has demanded justice. In the wake of the brutal murder of George Floyd, those calls for justice have a renewed vigor. Resistance to racist police terror has grown stronger than ever. Tymar Crawford would have celebrated his 29th birthday last week. In his honor, his partner and other loved ones organized a car caravan to make sure that his name and his story is not forgotten. In solidarity, organizers merged their Cancel the Rents and Mortgages car caravan with the "Happy Birthday Tymar Crawford" car caravan.
Approximately 50 cars showed up for the Pensacola caravan, which drove through many working class and Black neighborhoods. Energized car occupants shouted and waved signs, while organizers with Party for Socialism and Liberation, Strive, and Dream Defenders led chants from the passenger seats. The caravan was met with incredible enthusiasm from bystanders throughout the neighborhoods we drove through and ended at Pensacola Village, the apartment complex where Tymar Crawford grew up. Residents at Pensacola Village flooded into the parking lots to cheer the caravan's arrival and join in the chanting.
Car protests took place in the following cities: Anchorage, Alaska; Birmingham, Alabama; Fayetteville, Arkansas; in California: San Francisco, Los Angeles, Ventura, Santa Clarita, Long Beach, Fresno, San Diego, Baldwin Park, San Jose, Davis, Santa Rosa, Riverside, Inglewood; in Connecticut: New Haven, Hartford, Danbury; Washington, D.C.; in Florida: Tampa, St. Petersburg, Sarasota, Pensacola; Atlanta, Georgia; Boise, Idaho; in Illinois: Chicago, Rock Island, Carbondale, Urbana; Indianapolis, Indiana; Wichita, Kansas; in Kentucky: Frankfort, Louisville, Lexington; Baltimore, Maryland; Boston, Massachusetts; Detroit, Michigan; in Missouri: Springfield, Kansas City; Reno, Nevada; Manchester, New Hampshire; Newark, New Jersey; Albuquerque, New Mexico; in New York: Ithaca, Albany, Queens; Asheville, North Carolina; in Ohio: Dayton, Cincinnati, Cleveland; Portland, Oregon; in Pennsylvania: West Chester, Philadelphia (West), Philadelphia (North), Pittsburgh; East Providence, Rhode Island; Columbia, South Carolina; in Texas: San Antonio, Dallas, Houston, Austin; in Utah: Salt Lake City, Cedar City, Provo; Burlington, Vermont; in Washington: Seattle, Spokane; in Wisconsin: Madison; Milwaukee. Visit CanceltheRents.org for more information.