Since the lynching of George Floyd on May 25, cities and towns across the United States and internationally have erupted in righteous anger at a government and police force that has never once removed their knee from the neck of Black people. Mainstream media and politicians continue to intentionally misreport the facts to instill doubt in this movement, but Party for Socialism and Liberation members were on the ground across the country reporting for Liberation News, and witnessed a much different story. While this article reports on the protests in New England, these cities and towns are not unique — there is no where in the United States that is free from the epidemic of police terror.
On Friday May 29 in Boston, Massachusetts, thousands of protestors demanded Justice for George Floyd, Ahmaud Arbery, Breonna Taylor and all victims of racist police and vigilante terror. Boston is no stranger to police terrorism. Burrell "Bo" Ramsey-White, Usaamah Rahim, Denis Reynoso, Terrence Coleman, Mary Holmes, David Wright and so many more have been murdered, tortured or brutalized by the Boston Police Department. Hope Coleman, the mother of Terrence Coleman, a Black man who was murdered by BPD officers while experiencing symptoms of his mental illness, addressed the crowd: "I pray every day for these cops to be accountable. Every single cop! It's time for a change! I'm tired, but I'm not going to give up hope." Overcome with emotion, she paused several times during her speech, and each time, the crowd encouraged her with cheers, applause and chants of "We believe in Hope!"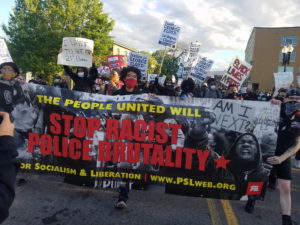 Protestors then marched through the South End neighborhood that still retains its historically Black and brown population despite rapid gentrification. Passersby on sidewalks cheered and raised their left fists while drivers in cars honked their horns in support. Residents filmed from their balconies and windows and cheered as the march passed. People came out of their homes and off the sidewalks to join the protests, undermining the media myth of the "outside provocateur."

Demonstrators faced off with police outside the BPD D4 and D2 precincts. The police set off what witnesses report as a "firework" that made the crowd of protestors turn and look behind them. At that very moment, the cops attacked the people by surprise with pepper spray and in the ensuing chaos beat them with their batons, bikes and fists. One woman was beaten unconscious, but was still carried off by the police to be arrested, lifting her off the ground by her wrists and ankles. Ten protestors were arrested on multiple charges including "promotion of anarchy."
In New Haven, Connecticut on Friday, a demonstration was organized outside of Mayor Justin Elicker's residence demanding the charges be dropped against a man who was violently assaulted and arrested by a New Haven cop inside Walmart on May 28.
"This brings revolutionary optimism, and that's what it's going to take."
On the following day, Saturday May 30, more than a thousand people mobilized in downtown Manchester, New Hampshire. PSL members provided placards, snacks, water, gloves, masks, chants and a megaphone. Protestors marched down Elm Street, and then around Veteran's Memorial Park and Hillsborough Superior Court North.
The cops attempted to block the marchers with their cars but the people continued. A smaller group went to the police station on Valley Street, where a Black protester was threatened by a white racist Trump supporter with a gun. Despite sharing ideological similarities with the police, the gun-waving racist was eventually arrested. This large demonstration in New Hampshire is highly significant for the state, quite possibly being the largest since the Clamshell Alliance/No Nukes mobilizations in the 1970s.
New Hampshire police also have blood on their hands. In 2016, homeless activist and Fight for 15 organizer Jeffrey Pendleton was found mysteriously dead in his Valley St Jail cell in Manchester. On May 20 of this year, two police officers broke the window of Jean Ronald Saint Preaux's car and ripped him out of his seat by his dreadlocks before tasing him.

On Saturday in Burlington, Vermont, a Justice for George Floyd rally at Battery Park was co-hosted by organizations including the Peace and Justice Center and the Vermont Workers Center. Protesters marched to the police station, where some poured fake blood on the steps of the police station in memory of Black people killed by the racist police state, echoing similar actions taken by ACT UP activists in the late 1970s. The people also removed an American flag at the police station, and raised a "Black Lives Matter" flag in its place to cheers and applause.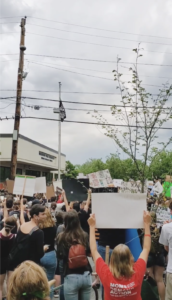 A large black truck towing a fishing boat drove through a crowd of protestors returning to Battery Park, but no one was hit. PSL members and others who witnessed this act of aggression were able to capture the license plate number and relay it to the Vermont Lawyers Guild. Burlington Police have since responded, saying they will find the driver and issue a ticket. Intentionally speeding a truck through a crowd of unarmed protestors should be considered attempted murder, but not to the Burlington PD.
While Vermont is often seen as a "progressive state" in part due to Senator Bernie Sanders, the Burlington Police are also responsible for brutality and murders. In 2016 Burlington Police officers shot and killed 76-year-old Phil Grenon in his bathtub at home while responding to reports that he may be suicidal. According to a state report, "Mr. Grenon's mental health began to deteriorate at least one year before his death… He believed that people, including the police, were coming to his apartment to kill him." In 2018 officers assaulted two Black men who were brothers, leaving one with permanent injuries. In 2019 a Burlington Police officer punched a mentally ill white man so hard that he died a few days later from the injuries.
Hundreds took the streets in Bridgeport, Connecticut demanding Justice for Jayson Negron, killed by Bridgeport police in May 2017. At a smaller rally in New Haven, PSL member Karleigh Webb rallied the protestors to join Bridgeport, saying: "People are tired, people are drained, people are on the march again. I'll say this makes me hopeful. This brings revolutionary optimism, and that's what it's going to take." Later, demonstrators shut down highway Route 8 in Bridgeport and faced off with State Police, who arrested at least two community members.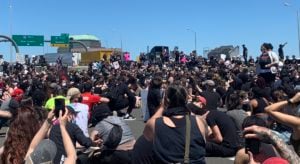 Police escalations increase and tension deepens as weekend continues
On Sunday May 31, thousands more turned out in Boston again, with a powerful march from Nubian Square to the Massachusetts Statehouse. As the thousands of marchers entered the Boston Commons, people began to play drums, dance and chant slogans of revolution. Celebratory fireworks set off downtown could be heard on the outskirts of Dorchester, and fireworks continued to be set off all across the city throughout the night.
As the demonstration concluded, people began to drift back to the train stations, ready to go home — and found that all the MBTA entrances in the area had been closed off by walls of police. Train operators were instructed to bypass these stations. The police began to kettle the protestors, locking them in on all sides. Tensions rose as the people felt trapped, throwing insults and water bottles. The police responded to this "threat" with tear gas, and an SUV drove through a crowd on live television, injuring at least one person and possibly more. Similar tactics of shutting down public transit have been used by police in Chicago and New York. The local mainstream media failed to speak on this action that was clearly meant to trap the protestors, reporting instead that the violence erupted spontaneously, or was provoked by "outside agitators."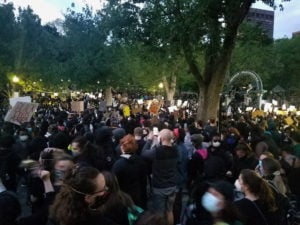 While the local mainstream media focused on the "violence," "rioting" and "looting" that inevitably followed this tactical police escalation, they never missed an opportunity to thank the cops for "restoring order" and "peace" — an outrageous notion to anyone who was there to witness the rubber bullets, tear gas, pepper spray, batons, and dogs, bikes and cars that were used as weapons. Boston Mayor Marty Walsh posted on Twitter, condemning the protestors who "came into the city" and turned the peaceful protest violent, while not acknowledging the city's decision to shut the MBTA down. The people of Boston have every right and reason to be mad as hell, and the only so-called outside provocateurs Liberation News reporters saw on the ground were the Boston Police Department, State Troopers, ICE and the National Guard.
At one point, protesters chanted "take a knee!" until two cops knelt beside them and talked — conveniently while Boston Globe reporters were filming. But the cops surely put their helmets and gas masks back on in the hours following the publicity stunt so they could continue to provoke and arrest the demonstrators.

Protesters responded by setting fire to a police car and to dumpsters and trash cans across downtown and the Commons. While some small businesses in Chinatown and Downtown were smashed and painted with graffiti, most of the damage and looting occurred in the wealthy areas of Copley and Newbury Street. At least 40 arrests were reported, and countless were injured.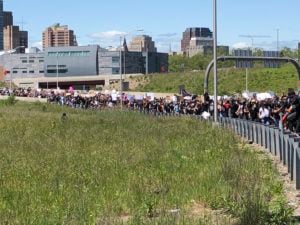 Thousands marched through the streets in New Haven, Connecticut on Sunday as well. The march shut down the I-95 highway and then headed to New Haven Police Headquarters where Mayor Elicker was monitoring the demonstrations. NHPD officers violently assaulted and pepper sprayed peaceful protesters who wanted to deliver a message to the Mayor.
Elicker, Police Chief Tony Reyes and other elected officials have tried for days to deflect attention from the violence perpetrated by police in New Haven and across the state by saying "New Haven is not Minneapolis. Minnesota is not Connecticut," and participating in a deceitful "Police Against Police Brutality" photo-op.
"We want freedom, freedom! All these racist-ass cops, we don't need 'em, need 'em!"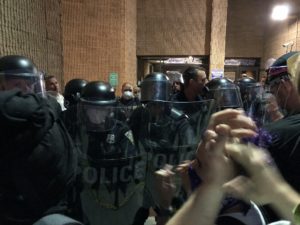 We must not be fooled by the slanderous accounts by government officials, police departments and the mainstream media that "outside agitators" are responsible for the "violence." Smashing or stealing private property that is only made profitable through the exploited labor of the working class is not violence; the only violence that occurred was done to the protestors, by the police. The police are solely responsible for their escalations and entrapment that provoked the chaos. Politicians and other ruling class representatives are duplicitous when they condemn other countries for alleged human rights abuses at the same time that they spout "law and order" propaganda in support of their police actively using military and chemical weapons against unarmed people.
Connecting the domestic terror by the racist police to the global terror by the imperialist U.S. military, a protester told Liberation News: "This country was built on the oppression of Black and Brown people. …I'm from Guatemala, and there's a 36 year war there that was financed by the U.S. It's not just about what's happening today…we need to remake the entire system, deconstruct everything and rebuild a new structure of society."